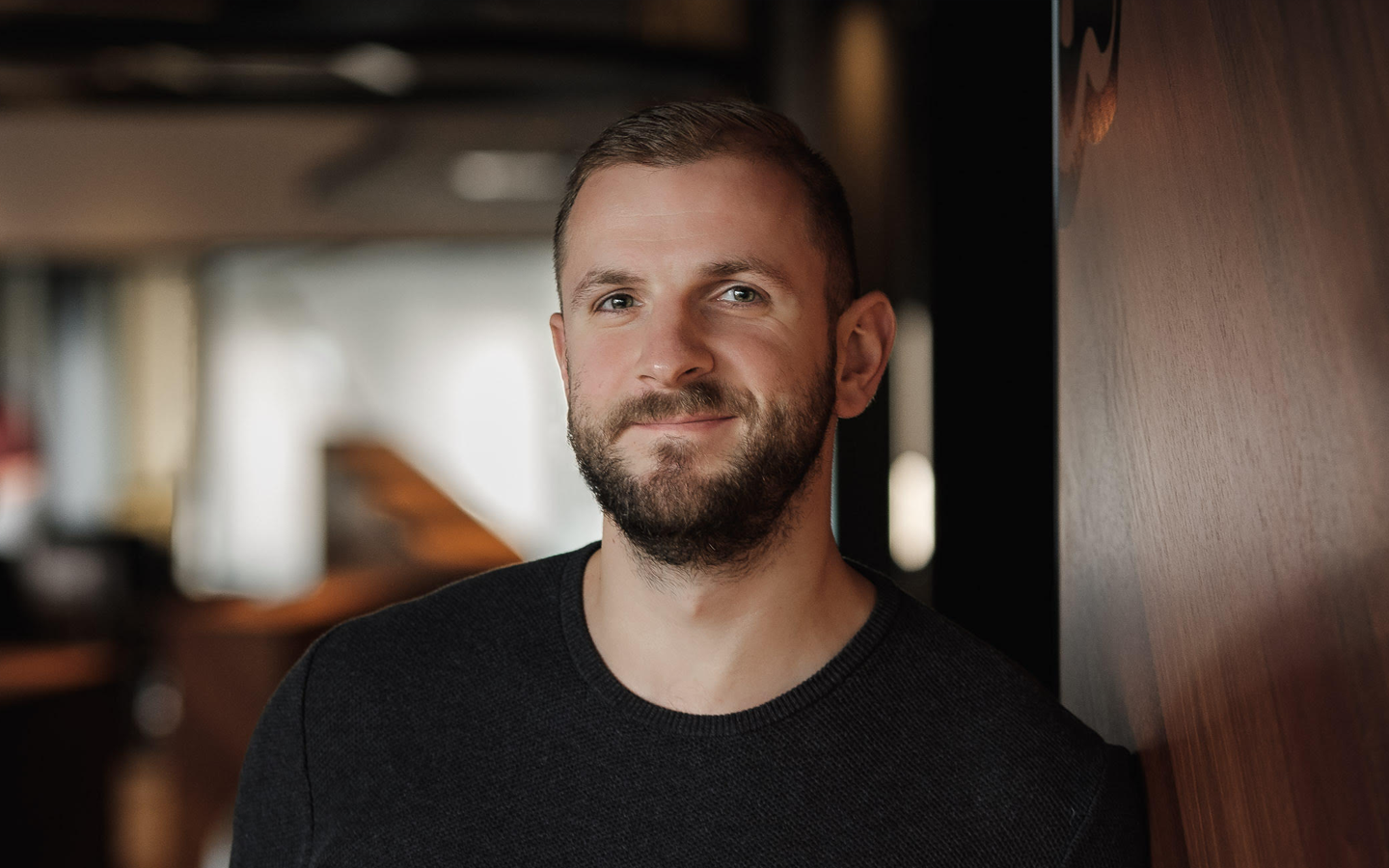 05 Sep

5 minutes with Daniel Jacobs, Manager Client Service

Inflight Entertainment attracts all kinds of people, from aviation geeks to hardware nerds and movie buffs. One of the latter is our very own Daniel Jacobs, Manager Client Service for Virgin Australia. DJ, as he is affectionately known, came to Sydney and Stellar via Germany and the distributor business. His passion for content and film is infectious, and it is a joy to have him curating award-winning content sets for our clients.

We sat down with DJ to learn more about what he does and how he does it all.
We also wrangled a microphone in front of DJ and got him to share some Stellar wisdom. Listen above!
DJ, tell us a little about your background.
Before I started at Stellar Entertainment, I was working for Studiocanal, Europe's largest distributor for movies and TV. Based in Berlin, Germany, I worked in the team responsible for TV sales to German-speaking broadcasters. I had a portfolio of clients in Germany, Austria, and Switzerland and would put together packages of available movies and TV shows based on the channel profile and their audience's demographics. An important part of this job was building strong relationships with my clients in order to understand their strategy and find gaps in the programming schedule that could be filled with the company's product.
Secondly, I was handling all non-theatrical sales including public exhibition, clip rights as well as licensing movies to ships and airlines which ultimately opened the door to the world of inflight entertainment.
Why did you come to Stellar Entertainment?
When I moved to Australia, I was very keen to dive into the local entertainment market and learn about Australia's media landscape and audience, which is quite different from Germany. Shortly after I arrived in the country, I came across the opening at Stellar Entertainment and decided to apply even though I had not planned to go back to work so quickly since I had finished my job in Germany only a couple of weeks before. However, I knew it would be a great opportunity to kick-start my professional life in Australia by working with one of Australia's biggest brands, Virgin Australia.
I am passionate about content and what I love most about working at Stellar Entertainment is to expose myself to the enormous variety of entertainment products, from a little web series produced on a farm in rural Australia, to travel shows covering local cuisine in Asia to global blockbusters from Hollywood's powerhouses. The job has given me the opportunity to not only work with international peers but also with a team that is equally passionate about what they do and fully invested in giving our clients the best level of service while maintaining a personal touch and a sense of fun.
What does your role at Stellar Entertainment involve?
At Stellar Entertainment, I manage all client relations and video content programming for our airline client Virgin Australia. I am the main point of contact for the airline in relation to content and licensing questions as well as inquiries for PRAM and creative productions that we do in-house at our studio in Sydney.
Each month, I curate a bespoke content selection for Virgin Australia in line with the airline's demographics and brand strategy. Once everything is signed off, I license the rights from the Hollywood studios and international distributors and work closely with our numerous suppliers and the airline's technical vendors on the monthly media delivery.
I also oversee operations in-house for the Virgin Australia account and work hand in hand with our technical and metadata team.  Knowing how important on-time performance is for airlines, I'm also responsible for ensuring that these teams deliver all media on time every cycle so that there's absolutely no impact to this critical component of an airlines performance.
From your perspective, what is the role of the CSP in IFE?
As my client once told me: We as an airline are not in the business of content. But we are and that's ultimately our role as a Content Service Provider. We help airlines navigate through the endless range of content offerings out there. Based on data and industry knowledge, we curate a bespoke entertainment product to make sure it's relevant to their passenger demographics and inline with their brand strategy.
At Stellar, we consider ourselves brand partners, fully invested in the airline's identity. Our goal is to make content acquisition and licensing simple and seamless for the airline and support every touchpoint along the way of delivering the entertainment product to the aircraft. Each airline has its unique requirements and we are here to deliver solutions, however big or small their fleet.
What I value most about the Stellar approach is that we are very flexible. We listen carefully to what our clients need and provide the most suitable solution. An airline might only require us to do their content licensing or service a legacy system or offer a fully integrated service including content curation, boarding music, PRAMs, advertising and data analysis. We are capable of doing all of that.
Do you have any thoughts on the future of IFE?
In my opinion, a personalised entertainment experience will become very important for IFE in the future. Inflight connectivity introduces a new challenge for airlines as the IFE now competes with entertainment options people usually access on the ground. While the current licensing model still provides airlines with an exclusive window for movies which gives them an advantage over streaming services, airline's and CSPs will be working on new strategies to keep their passengers engaged with the onboard offering. That will go beyond simply entertaining people with movies, TV, and music and introduce offerings such as wellbeing and shopping to the inflight experience.
Tell us a bit about your life outside of Stellar. Any hobbies?
I love good food and being in the company of friends and family. During summers, I like jumping on my scooter after work and heading down to the beach for a swim. And even though my job is all about entertainment, I never get tired of going to the movies or binge-watch a show at home.
I also love photography. I often spend hours wandering through the city with my camera or editing photos on my computer. I especially enjoy taking photos of people, capturing their story and unique personalities. (You can follow DJ on Instagram @bydanjacobs to see his beautiful work!)
Tourist must-see/ must-do in Berlin and Sydney?
I usually recommend visiting Berlin during the summer. Everyone's outside until late at night, enjoying food and drinks and sometimes music on the streets. You can fill your day by visiting historic sights such as the remains of the Berlin wall or you can just grab a beer and have a walk by the canal in Kreuzberg, which gives you the true experience of a Berlin resident.
For a good time in Sydney, I suggest fish and chips at Watsons Bay and taking the ferry to Circular Quay. I do that every time friends and family from Germany come to Sydney. Approaching the harbour on a boat and going past the opera house and Harbour Bridge blows me away every time.